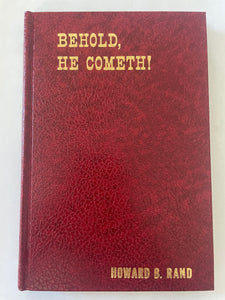 Behold, He Cometh
A great deal has been said and written about the character of the Kingdom of God and the nature and attributes of the Second Advent of Jesus Christ. Because of the failure to accurately identify the Kingdom of God and its earthly functions, much of what the prophets of the Bible state concerning the Kingdom is completely misunderstood. This is equally true concerning what is involved in the phenomena of the return of our Lord to earth. 
Here is a book that clearly identifies the people of the kingdom, outlines the requirements of citizenship and stresses the importance of striving to attain to rulership with Jesus Christ, King of kings and Lord of lords. It should be read by every earnest believer who aspires to be counted worthy of highest Christian calling obtainable - association with Jesus Chris and His government. 
Embodied in this book is a personal challenge to the individual to continue steadfast in faith and service to the very end. Its inspiring presentation will be a compelling incentive to persevere during these days of apostasy. 
Hard Cover / 107 pages