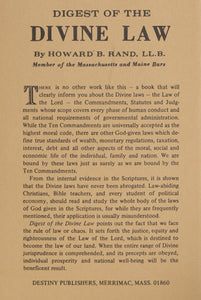 Digest of the Divine Law
Based on direct evidence in the Scriptures, author Howard B. Rand seeks to prove that there are God-given laws that govern all aspects of the moral and economic life of the individual, family and nation. 

While the Ten Commandments are accepted as the highest moral code, we are also bound by the Bible's statutes on jurisprudence, monetary regulations, true standards of wealth, taxation, interest, debt, etc. 

No other author or book covers the principles of Divine Law as convincingly or in as much depth as Rand and his Digest.
Originally Published: 1942