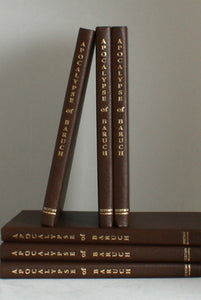 Apocalypse of Baruch
Many are familiar with the Book of Baruch in the Apocrypha, but few are acquainted with the apocalyptical writings of Baruch which are more far-reaching in their scope. Baruch was the Prophet Jeremiah's scribe and wrote the words of the Lord, as spoken by Jeremiah, upon "the roll of a book" (Jer. 36: 4).
The Apocalypse of Baruch is written in the first person as Baruch recounts what befell him immediately before and after the destruction of Jerusalem. Baruch was given a clear vision of the conditions which would be extant throughout the earth at the end of the age. No true Bible student can afford to be without this book, especially now as the "Tarrying Time," to which Baruch referred, is now drawing to its close.